Faircloth Coat of Arms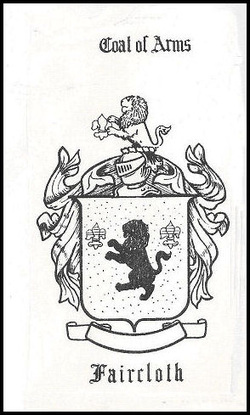 Our Faircloth Coat off Arms hails in England from the year about 1583 and was noted on the effigy of Samuel Fairclough Etching. It was drawn by a heraldic archive artist from information officially recorded in ancient heraldic archieves. It is listed in Burke's General Armory. In that language the arms are described as: a lion ramp, Sa., Betw. Two fleurs-de-lis ax. Above the shield and helmet is a crest which is described as: "a demi lion ramp. The paws are fleur di lis. When translated, the blazone also describes the original colors of the Faircloth Arms and Crest as it appears centuries ago.




A Coat of Arms was granted by the king to the Fairclough family in Hertfordshire Lancashire, Lincolnshire and London on 3 November 1583. There may be an earlier one but it is not known at this time.









---