| | |
| --- | --- |
| --- | Christy Judah, M. Ed., Author |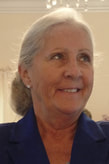 ---
---
Welcome
New Releases.................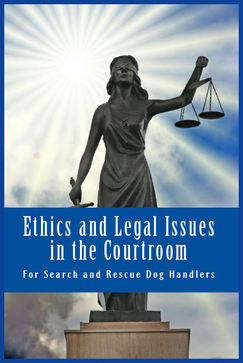 Authors, Terry Fleck, Ed.D., and Christy Judah, M. Ed., outline the search and rescue canine industry standard and suggested practices for SAR canine handlers.
April 2017
Search and Rescue dogs continue to amaze us with their abilities and talents as they locate lost or missing persons. This text is a primer for the K-9 handler since every missing person case is a potential crime unless proven otherwise; and will quite possibly become a court case. It is a reference for the handler as they face the task of appearing in court as an expert witness in order to provide information and evidence in a trial.
The mundane meets reality in this text, which describes the industry standard for SAR dog handlers. It not only covers handler ethics, it covers common areas of attack in court, courtroom testimony, becoming a courtroom expert witness and common questions asked of witnesses in court; especially dog handlers.
This book provides important information on K-9 record keeping, resumes, terminology, sample logs, and a review of Scientific Working Group on Dog and Orthogonal detector Guidelines best practices. It lays out the industry standard for training, as well as certification and search documentation.
In addition, this book contains a review of the Casey Anthony trial testimony of the K-9 handlers involved and provides examples of over twenty (20) additional court cases reviewing dog handler testimony and its' relevance; acceptance or rejection of each.
Legal issues commonly addressed in court and the advice of experienced handlers who have been there provide tip after tip for a K-9 handler. It is a MUST read for any SAR or cadaver dog handler and will remain on the shelf for reference for years to come.
Publication Date: Apr 03 2017 ISBN/EAN13: 1544241569 / 9781544241562 Page Count: 226
Binding Type: US Trade Paper Trim Size: 6" x 9" Language: English Color: Black and White
Related Categories: Reference / Handbooks & Manuals
Available at:
www.createspace.com/6989648
---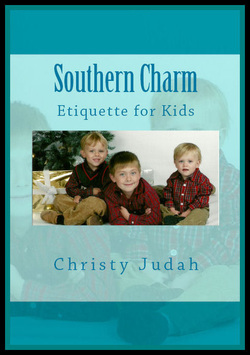 Southern Charm - Etiquette for Kids RELEASED August 1, 2016
by Christy Judah
Teaching proper etiquette and traditional southern manners creates charming, confident, and respectful children. This book encourages kids to be graciousness, kind, honest, and respectful toward others' especially our elders.
Southern Charm was written for the parent and child to share reading sessions, discuss each concept, and encourages practice in the home. From social manners, phone etiquette, dining skills, and conversational skills, to writing thank you notes and playing well with others...this book lays a great foundation for treating others as you would like to be treated; with southern charm.
Click Here to Order your Copy
---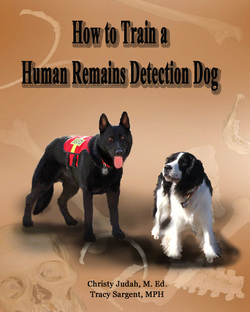 Released March 3, 2015.....

How to Train a Human Remains Detection Dog

How to Train a Human Remains Detection Dog is the most comprehensive digest of information to assist the search and rescue dog handler to train and conduct searches for human remains. It takes the handler from the initial decision-making process to becoming an HRD dog handler to advanced level training techniques involved in searching common as well as unusual cases.

For nearly 50 years of combined experience, Judah and Sargent share their training techniques which have produced many finds, as well as hundreds of pictures of search and rescue dogs from across the United States. Each unit teaches the handler to read their dog and follow a step-by-step process to train a reliable and credible HRD dog. The curriculum is based on real-world experience and literally hundreds of searches.

This text is designed as a teaching/training curriculum and is not intended to be light reading for the average reader. It is intended to provide an honest and open display of information and techniques which have served the authors well throughout their years of search and rescue service to others. This book is certainly a must-have for all SAR dog handlers.

Ready to order....



---
---
---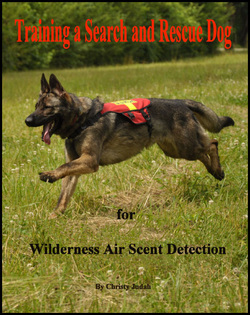 Just released..... October 2014
Training a Search and Rescue Dog for Wilderness Air Scent Detection
Training a Search and Rescue Dog is an easy to understand step-by-step instructional manual to teach dogs to find live people using air scent detection techniques.
It provides a planned curriculum to incorporate a re-find into a wilderness air scent training
program. It does include tips on adding human remains detection should the handler desire to cross-train their dog. The program allows for individual differences in dog training methods and reward systems providing the handler the opportunity to custom design the training so that is best suits the breed, environment, and need.
Search training logs, search reports, and other related training documentation samples are included. This book is intended for the dog that has already received training in general obedience, agility, and socialization. Dogs without those skills should consult the author's previous book titled Building a Basic Foundation for Search and Rescue Dog Training. That book will prepare the handler and dog to take the next steps included in this manual.
Recognizing that there is more than one correct way to train a SAR dog, the author provides pro's and con's to training components such as handler vs. subject loyalty, types of rewards, and training methods.
Handlers and dog teams completing this curriculum should be ready to take a certification test and prepared to respond to formal callouts for missing persons. This book was written for search and rescue personnel who have already completed his or her "individual search training" and is ready to add the dog component to their repertoire of skills to find missing persons...the ultimate goal.
---
---

The English Springer Spaniel Puppy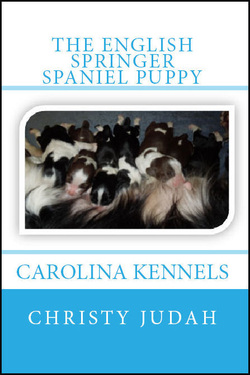 The English Springer Spaniel Puppy is a guide to choosing and welcoming a new puppy in the home. It outlines the basic concepts in wise puppy selection positive puppy care good grooming, and basic training for the family pet.

It provides a list of supplies and shares many tips on how to provide a positive environment which fosters good social development. This lays the foundation for a lifetime of valued companionship. Some of the items included:

How to Bathe your New Puppy, Housebreaking Techniques, Crate Training

Beginning Obedience Training, Grooming Lessons

Vaccination and Immunization Recommendations

Housing: Fencing and Yard Recommendations

Communicating with your Puppy

Common Problems with Puppies and What to Do About Them

Mans best friend deserves a proper place in the family. This book helps the family to provide that loving and nurturing home so that the puppy will become a valued family member for many years to come. You may be only one person in the world but you are the world to your dog! A must read for all new puppy owners.

---